Hula Prullen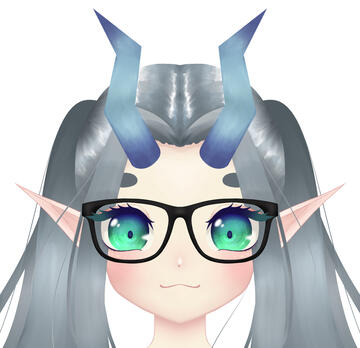 ---
About
---
Hula (she/they) is a Gremlin VTuber who streams gameplay on Twitch.

She is a member of the private guild known as The VRoid Academy.

She runs a Booth shop where she sells original VRoid clothing & assets.

Her lore is that she drank too much Dr. Pepper and became a gremlin.
---
---
Models
How did you make your 3D model?

I originally made it in VRoidStudio then changed it in Blender & Unity.
Schedule
---
All times shown on Hula's schedule fall under EDT/EST.
| Date | Time | Type |
| --- | --- | --- |
| 12/15/21 | 5:00 PM | Debut |
| 1/4/22 | 4:00 PM | Birthday |
---
Terms of Service
By commissioning Hula, you acknowledge & agree to the TOS.
Payment is required before she has started on the commission.

Clients will only receive a refund if Hula hasn't started working on their commission.

Do not rush her. Hula may take a long time to finish commissions.

She requires credit to be given if a client uses and/or shares Hula's art on any sites including social media.

Commission slots are not given on a first-come, first-serve basis.

Hula will close her commissions once all slots are taken.

She reserves the right to decline a commission.

Hula only accepts payment through CashApp.

Commissions are only for personal use. Please let Hula know ahead of time if you plan to use her art for commercial purposes.

Do not trace over and/or modify Hula's art in any way, shape, or form without their permission.

She won't give refunds out after commissions have been finished.

You agree to allow Hula to display the finished piece in her gallery portfolio as an example piece.
---
Pricing
The price of a commission will vary depending on complexity.
| Service | Price | File Type |
| --- | --- | --- |
| Accessories | $10 | .vroid |
| VRoid Clothing | $20 | .png |
| Full Outfit | $40 | .png / .vroid |
---
Will Do
Blender & Unity Adjustments
Won't Do
NSFW / Gore / Body Horror
---
---
Testimonials
Coming soon...